Ralph teaches that HOW a dog learns is as important as WHAT a dog learns, and you can learn the best methods for your dog in his Pre-School to College Program. He will cultivate a lifelong love of learning and training for you and your dog through his problem-solving approach.
SAFETY FOR YOUR DOG,
FAMILY AND PUBLIC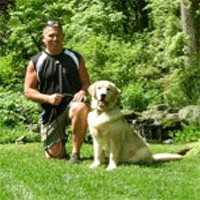 Working with Ralph you will use gentle yet effective methods that your dog can clearly understand. You'll learn proven techniques for molding your dog's behavior – your dog will learn good manners and obedience. Your dog will fit in and become part of the family: you won't have to alter your lifestyle. Remember — owning a trained dog is fun!
Ralph offers practical training for today's owners and pets. Small changes in the way you relate to your dog will equal BIG changes in their behavior. Dogs are better-behaved once they clearly understand what is expected of them. Ralph will also show you how to redirect your dog when he or she responds incorrectly. The result is a pet you enjoy being with.
Ralph's Pre-School through College Program
Based on years of experience, Ralph has developed training curriculum based on proven voice commands and body language that your dog understands. Ralph takes you through an orderly, step-by-step process, to teach your dog all necessary behaviors.
The courses are:
Pre-School through 3rd Grade: The teaching phase
4th Grade through 8th Grade: Verbal independence
High School: Distraction work
Community College: Distance and long down stay and long line work
College: Off  leash
Two reasons the Program is broken down like this are:
 I do not expect a 4-month old puppy, having the mind of a 2 year old to do high school work. Your dog's mental capacity will vary with age:
4-month old puppy has the mind of a 2 year old toddler
6-month old puppy has the mind of a 3 ½ year old child
1 year old dog has the mind of a 7 year old child
2 year old dog has the mind of teenager
3 year old dog has the mind of a young adult
4 year old dog has the mind of an adult
We do not want to put any unreasonable demands on the dog so knowing what the dog's mental abilities are will help you know what to expect of the dog and what not to expect.  The best performance years of a dog's life are when the dog is between 3 and 7 years of age.  That is when they are in their prime!
If the dog is not able to perform at a pre-school through 3rd grade level, they will be unable to perform at the 4th grade through 8th grade and can not perform at the high school level etc…..
The Educational Programs Include:
Kind, gentle and effective training methods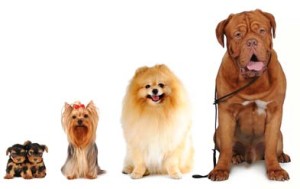 Three Essentials
Attention
Communication
Leadership Imprinting
Structure and Management
Markers
Motion and Hand Signal Mechanics
Leash Handling Mechanics
• Owner/Dog communication skills • Puppy Training • House Breaking • Basic Training
• Advanced Training • Socialization • Leash Handling • Behavior Modification • Preventive Resource Guiding
• Specialized programs to eliminate aggressive behavior
All Programs are customized to meet your specific needs, solve your specific problems, and eliminate unwanted behavior.
The Behaviors Your Dog Can Learn:
• Heel • Sit • Stay • Down Come • Stand • Watch Me • Drop It • Leave It • Wait
• Walk • Rest • Place • Retrieve • Fetch • Bring • Hold • Walk • Back
• Tricks: Bow, Rollover, Play Dead, Wave, Etc.